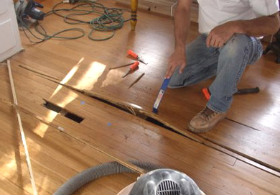 Our floor repair services will prepare your floorboards for sanding and sealing. The cracks and dents will be mended, where possible and if there is some larger damage, some of the timbers on your floor will be removed and replaced with similar ones of the same quality and age. Floor repair is a work better done by professionals. Leave it to our technicians, who have a lot of experience, expertise and skills.
If your floors have a lot of scratches and marks from pet animals, cracks and damage on the boards, you need professional floor repair. The services, which our company provides in London, will do the necessary restoration work on your hardwood, softwood, laminate or other kind of floor. Before renovation, most floors need to be checked and repaired, where necessary. You can trust our technicians with the repairing of your floors. They are very experienced and know how to overcome the biggest issues you might offer. Whenever you need a floor to be repaired, give us a call. We are able to fix squeaky floorboards, signs of water damage, dented surface, chipping and scratches.
A word from our clients
My new floor looks amazing! Thank you a lot.

The parquet in the bedroom had some cracks, now it is perfect again!

Great dust-free floor repair service! You guys are the best!
In our reliable floor repair services is included:
Inspection and testing of the stability and steadiness of every timber
Fitting and nailing boards, which are loose and out of their proper places
Repairing cracked boards
Removing very damaged and broken timbers and inserting new ones with the similar type, quality and age, in the proper places
Removing nails and materials, left from the repair work
If you take advantage of the reliable floor repairs, which our company offers, your floor will be refurbished and rid of all old, broken and loose boards, which are left on it. Our technicians will inspect every timber on your floor, test it and choose the best method to repair it. Boards, which are too damaged and can't be repaired, will be replaced with ones of similar quality and age. Our technicians will remove the broken boards carefully and insert the new ones in the proper places. They will also remove all nails, which are out of place, left on the floor.
Prices
Odd Jobs

£

45/h

Furniture Assembly

£

45/h

Fit Blinds and Curtains

£

45/h

Repair Bath Fan

£

45/h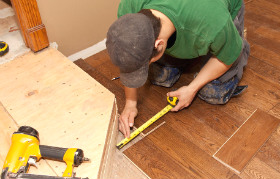 No matter what type of flooring you have, once in a while it simply gets damaged and needs repairing. Replacing your whole floor with a new one can be a hassle. It will cost you a lot of money, time and effort. We want to spare you those and help you bring back the former glory of your floors. Our technicians are more than capable. They have a lot of experience and are professionally trained for the particular tasks they perform. They are able to repair all kinds of floors, including Tiled floors, Laminate floors and Hardwood floors.
Tiled Floors Repair
Do not panic in case you crack, chip, scratch or break a tile. Even if replacement tiles are not available, we can still manage. Our technicians are able to fill in the damaged area and make a perfect match to the original texture and colour. They are even able to duplicate painted or patterned tiles so you don't have to worry about compromising your beautiful interior. We work with ceramic, porcelain, glass and marble tiles.
Wood Floor Repairs
Whether it is solid wood or engineered flooring, damage is not the end of the world. We can repair scuffs, dents, scratches, cracks, stains and burn marks. It is efficient and cost -effective, since replacing your hardwood floors is not only expensive but requires a lot of time and effort too. We will match the texture and colour to the rest of the floor perfectly.
Laminate Floor Repairs
Is your laminate starting to peel? Or maybe there are some marks left from high heels or pets? Our technicians can restore your floor. They will fill in the ruined area and repair the damage. The colour and texture will be a perfect match to the original floor so you don't have to worry. We work with wood veneer, tiled or patterned laminate.
Our professional assessment of the condition of your floor will save you a lot of dangerous situations and future restoration of your floor. Every timber will be checked and tested for stability and steadiness. The loose ones will be fitted and nailed on the necessary places. The boards which are too damaged will be replaced with the best substitute for each one. Use our reliable floor repair services, provided every day during the week in London. They will ensure you well fitted, stable and secured floors, which you will be able to use for a long time.
We also offer you:
Quick estimate and a free quote. – Just send us a picture and share some details about the task in hand. We will give you an estimate on the phone or send a member of our team straight to your place. There will be no additional fees or hidden charges
The repair can be booked at a suitable time for you. Our working hours are flexible so we are able to come 7 days a week. Book the service for a time, most convenient for you and we will be there.
We will keep you updated throughout the whole process. You will know who is coming over to do your repairs and get notifications that we are on the way to your house.
We only use professional, high-grade materials so you don't have to worry about the quality of the job. We invested in the best products and tools so you receive high-quality service.
We offer you a 12 month guarantee for all Floor Repair services.
Call us now and talk to one of our office agents about your problem. They will give you advice and help you pick the service that will best suit your needs and particular situation. They are more than capable of giving you a quote. Whenever you talk to them, don't forget to share any details about the job in hand. This will help them pick the best team for the task. Our booking process is very easy. All you need to do is to give us a call and our customer care team will give you a formal estimate straight over the phone: 020 3745 4375