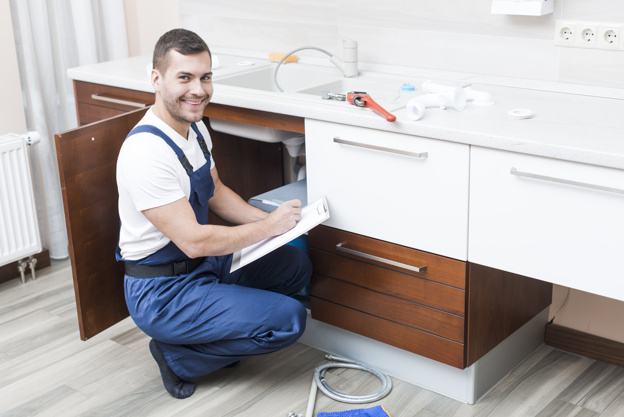 Our kitchen fitting services are at your disposal. Our fitting specialists will install and arrange your kitchen equipment, safely and professionally. All furniture items will be assembled and moved to the most proper places to make your kitchen functional and well arranged. Our fitters will assemble your kitchen furniture and create the kitchen design, which you have always wanted. They will help you make your kitchen comfortable and functional enough. Whenever you decide to renovate your kitchen, whether it is because of a malfunction occurring or just because you are tired of the old design of it and want something fresh, give us a call. Not having the correct tools and knowledge for the job might result in mission impossible. We would like to spare you the time, effort and money and help you achieve the best results in no time.
Many times we have ordered new kitchen furniture and have ended up unable to assemble it, put it together or mount fixtures properly. This shall not be a worry of yours anymore. Whenever you decide to replace your old kitchen with a new one, change the furniture or replace or move your kitchen appliances, do not hesitate and give us a call. Our technicians will come over and do just that. All furniture that comes into many tiny pieces that has to be put together, fitted and mounted in place will be taken care of. All appliances that need installing and connecting will be put in place and properly assembled. all furniture will be mounted and put in place.
A word from our clients:
My new kitchen looks amazing! Thanks a lot.

The kitchen is my new favourite room now.

Great dust-free kitchen fitting service! You guys are the best!
Our fitters will do the necessary installation of electrical appliances safely and at the appointed time. Order the kitchen fitting service, which our company provides in London, and have a brand new kitchen unit mounted in your home. The kitchen fitting service includes:
Safe installation and moving of electrical appliances on the necessary places
Assembling and moving of different kitchen furniture items
Mounting sinks
Fixing plumbing problems, making repairs and doing plumbing installations
Installation of lighting fixtures in the kitchen
Removing of old kitchen appliances and furniture and their proper disposal
If you want to have your old kitchen units removed from your home and have your new appliances and furniture installed in your kitchen, our reliable staff can assist you. The electrical appliances will be installed and moved to the places in which you need them to be.
Book a Kitchen Fitting Now!
Give us a call at 020 3745 4375 or fill the form below

If you have just bought a new fridge, freezer, washing machine, dishwasher or other electrical appliances and want them installed in the kitchen, our fitters can do this work. They can cope with all kinds of kitchen installations and furniture mounting. The electrical, plumbing and assembling work will be done professionally and safely.
All kitchen appliances will be moved to the proper places, installed and tested for proper and safe functioning. If you need to get rid of your old and unnecessary kitchen electrical devices or furniture, our employees will remove them from your kitchen and they will free the necessary space for the new kitchen equipment. Our decorating specialists will help you create the kitchen design you want in your home. After discussing your needs with you, our interior designers will create the kitchen design you want and implement it. Your electrical appliances will be fitted and installed properly. The sink, drawers, cupboards, table, chairs and the rest of the furniture will be assembled by our skilled technicians.
Our technicians will measure and plan the whole kitchen project for you.
A visit will take place so the handyman can check your place and confirm the quote you were given
After everything is decided, you can discuss the timeline of the project.
In the process, our technicians will do the following:
Assemble, fit and secure cabinets.
Fit and secure filler pieces, deco strips and others
Cut and mitre laminate and custom-made worktops (stone worktops included)
Mount cabinet lighting
Install appliances ( gas and electricity connection included)
Install sinks and taps (water connection included)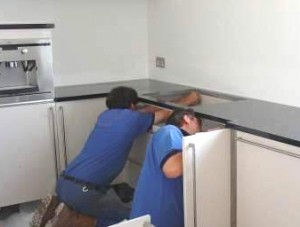 Although you might be very involved in the remodelling and designing parts of your kitchen renovation, it is important to trust a professional with all installations of appliances, pipes and fixtures. You may want to have tiled surfaces, wooden or marble ones. No worries, our technicians can manage to fit anything. They will match the style of your house and use the space in the most efficient way possible. Trust our professional technicians. They can help you throughout the whole process. From designing and planning the project, to installing it and assembling your furniture. You will not regret choosing our service so do not hesitate and give us a call.
Here is why choosing our company would be the best decision:
We hire competent and qualified technicians to be sure that every job is done to high standards;
Booking is very easy;
Our technicians have gone through a thorough screening process. They are insured and bonded, too.
Our services come at highly economical prices so that you do not have to worry about stressing your budget.
Our sessions are done in a quick and efficient manner so that you can be sure that all of your requirements will be met.
We provide a neat and tidy kitchen fitting service , without making a mess in your house.
Call us now and talk to one of our office agents about your problem. They will give you advice and help you pick the service that will best suit your needs and particular situation. They are more than capable of giving you a quote. Whenever you talk to them, don't forget to share any details about the job in hand. This will help them pick the best team for the task. Our booking process is very easy. All you need to do is to give us a call and our customer care team will give you a formal estimate straight over the phone:020 3745 4375