Plumbing services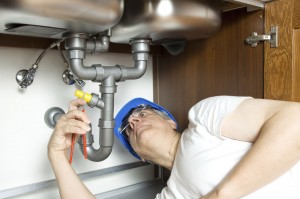 If you need help and assistance doing your plumbing housework or the plumbing work in your rented house or office, you can rely on us. We are a team of professionally trained, experienced and fully insured individuals. We provide our services in London as well as the whole United kingdom. They include fixing of different leaks in your bathroom,toilet or sink, unclogging of toilet pipes and drains, installation of toilets, washing machines, renovation of toilet flushes, mounting and installation of sinks, connecting pipes and many other plumbing problems you may encounter.
A word from our clients:
Thank you for unblocking my bathroom pipes. One issue less to worry about!

There was a leak in my bathroom's taps and now it is gone! The kitchen sink is fixed too!

Thanks for helping me install my washing machine. Now I have way more free time!
Plumbing is a specific job that should be done by professionals, in order to prevent further damage or more issues from occurring. Taking on such activities by yourself can be risky and time-consuming. The job often requires special tools and we want to spare you the effort and money you would spend on attempting to do the job by yourself. We offer you professional care, performed by experienced plumbers. All employees performing the service are experienced and well trained for all task concerning the job.They will take on any issue no matter of the kind:
Fixing leaking pipes and taps
Repairing toilet flush and cisterns
Unblocking pipes and toilets
Installing washing machines
Plumbing in baths and kitchens
Installing bath and shower taps
You can be sure of the high quality and long lasting results you will have in your property if you choose us. The London plumbers are equipped with all the needed plumbing tools, they are kind and friendly and are ready to deliver you the services you expect and even exceed your expectations.
Water damages in your house or office can be really disturbing and create many problems. If you let us take care of them we will do it in the most professional manner and they won't appear again anymore. The results our London plumbers achieve are permanent. Having the most effective chemicals and devices, they can cope with any leak, blockage of sinks or pipes and installation you may need. If you call and reserve your plumbing services by our London plumbers you will have your plumbing problems permanently solved. Some of the most common jobs are:
Pipe repair and replacement:
This is one of the most common problems our plumbers get called for. It is an important job, since one wrong move can cause a disaster. With nearly ten years of experience, our plumbers are trustworthy and can manage all issues that you might have with your pipes. They can quickly inspect and diagnose the problem in hand. Usually, the issues found in pipes are-
Cracked pipes
Pipes leaking water
Pipes making banging noises
Pipes are frozen in winter
Pipes are sweating
Pipes cause an increase in water bills
Kitchen Installations:
The installation of new pipes is crucial to any remodelling project. Even the smallest error in the installation process can lead to disaster. You can fully trust our plumbers with all repairs and installations you might need in your kitchen. Most common ones are:
Dishwasher installations
Water filtration system installation
Water heater replacement
Kitchen faucet and taps installation
Drains, fixtures and pipes
Drain Cleaning:
A clogged drain can cause many issues in a household. Slow water drainage, mould, flooding, unpleasant odours etc. The unclogging of a drain can sometimes happen easily but there might be a more serious problem causing it. It is best to get a professional opinion and make sure it is properly unclogged. The most common reasons for clogged drain are:
Hair
Food waste
Small objects
Toilet paper
Soap
Cooking grease
Leak repairs:
It is often that we hear dripping noises somewhere in the house but we can't figure out where exactly. Leaks are tricky to trace and repair. They might increase your water bills and cause all kinds of damage to your house. From mould growing on walls to general damage to your walls or ceilings. Fortunately, our plumbers know how to detect a leak and quickly fix it. We can help you with leaks, found in:
Main water lines
Sewer lines
Slab lines
In wall pipes
Faucet and fixtures
Appliances lines
We offer many other services so do not hesitate to give us a call and explain your issue to our office agents. They will make sure to send the best plumbers straight away.
All technicians performing the plumbing service can tackle any of those issues. Moreover they won't appear to bother you anymore for a long time. We offer a guarantee of all plumbing services provided by our technicians. You will also deliver competent diagnostics of the state of your plumbing system. Spending your money on our services is investing in high class plumbing services. Call the numbers for contact any time to order our plumbers and have your house or office safe and functioning.
We are skilled and experienced and can cope with any plumbing problem you might have. It doesn't matter if it is finding sink or toilet leaks and repairing them or installing new machines and devices in your home or office. You can be sure we will do our work in time and be discreet about it. We value our customers and always put them in the first place. Our London plumbers are fast and dexterous and always succeed to achieve excellent results for less time than usual.
Here is why choosing our company would be the best decision:
We hire competent and qualified technicians to be sure that every job is done to high standards;
Booking is very easy;
Our technicians have gone through a thorough screening process. They are insured and bonded, too.
Our services come at highly economical prices so that you do not have to worry about stressing your budget.
Our sessions are done in a quick and efficient manner so that you can be sure that all of your requirements will be met.
We provide a neat and tidy plumbing service , without making a mess in your house.
Call us now and talk to one of our office agents about your problem. They will give you advice and help you pick the service that will best suit your needs and particular situation. They are more than capable of giving you a quote. Whenever you talk to them, don't forget to share any details about the job in hand. This will help them pick the best team for the task. Our booking process is very easy. All you need to do is to give us a call and our customer care team will give you a formal estimate straight over the phone: 020 3745 4375
Prices
Odd Jobs

£

45/h

Furniture Assembly

£

45/h

Fit Blinds and Curtains

£

45/h

Repair Bath Fan

£

45/h